Recruit, screen, hire, and onboard faster and better!
TopDogHR provides companies with the tools to:
Find strong job candidates
Post and distribute job postings
Conduct pre-hire skills assessments
Manage onboarding documents
Perform FCRA compliant background checks
Complete eVerify and I-9 verifications
Answer all HR related questions
---
Utilize just one software platform to automate the entire hiring process.
---
Reduce the time it takes to hire, minimize data entry errors and ensure compliance with a complete, easy to use software solution provided by TopDogHR

TopDogHR gives us the solution that we need to attract and hire today's millennial job applicants who are so critical in order for our company to maintain our competitive edge.
-Paul Powell
Why is TopDogHR the right solution?
---
Scalable
with your company growth
Cloud-Based
use TopDogHR anywhere
Located
in the United States
Experience
16+ years of experience in HR technology
Support
real people who provide real support
Our Brand
TopDogHR is dedicated to providing our clients with a simple, web-based, "best of breed" SaaS HR software solution. The inspiration for our name and logo came from a sickly Boston Terrier who our CEO rescued from the Florida Everglades during a hurricane more than 7 years ago. TopDogHR is a 'dog-friendly' organization. Don't be surprised if you call TopDogHR headquarters and hear dogs snoring in the background. Our TopDogHR team is always hard at work; however, the dogs are constantly on a break!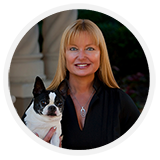 About Us
TopDogHR is a division of Background Information Inc. We are a privately held, self-funded, debt-free company who has been providing superior technology and services to the HR industry for over 16 years. TopDogHR is headquartered in beautiful Bonita Springs, FL. We fully embrace diversity, and our company is led by Lauren Meehan who is one of the very few women CEO's in the software industry. In addition to serving our valued client base, TopDogHR believes in giving back to our community. We support numerous non-profit, charitable organizations including the Boston Terrier Rescue of Florida and the Conservancy of SWFL.